DIY Natural Body Peeling - Coffee grounds instead of Microplastics
You want to help reducing microplastics in our daily use of cosmetic and beauty products? This is just one easy but very effective way to improve and support the conditions of our environment. As also mentioned in my article Plastic waste in our oceans, many cosmetics and care products are made of microplastic balls for the purpose of mechanical cleaning. Unfortunately, these microplastic particles end up in the wastewater and thus into the sea via the sewage or wastewater treatment plants. In order to protect our environment from this unnecessary pollution, we should avoid buying and using these products.
There is another way to do some beauty treatment for your body, having and enjoying a relaxing but skin activating spa moment in your own bathroom. And it won't cost you anything. Sounds great? Right, and this is how it works:
A selfmade body peeling, also known as body scrub, is very simple, quick and above all inexpensive to produce. Collect some coffee grounds in a bowl and either dip in your fingertips or use 3-4 tablespoons and mix it together with the same amount of your favourite shower gel or soap. It doesn't matter, if it is liquid or solid soap. Choose what you prefer. Optionally, you can also use 1-2 tablespoons of natural yoghurt, plain curd or even cream cheese. Just add some water to dilute it. And that's it! Never had such a short ingredient list? Well, you can also add some honey, if you like. But that's it! You only need a small amount of your DIY Natural Body Peeling, depending of course on how many parts of your body you want to rub it in, and then scrubbing gently over your skin.
Make sure to stay inside your shower cabinet or bathtub to simply clean up after your funny and messy looking treatment procedure. You will surely have something to laugh about when you look at your body, which looks like someone smeared you with something that looks like poo but luckily doesn't smell like that. Rinse the body parts or take a normal shower afterwards, using again your favourite body wash.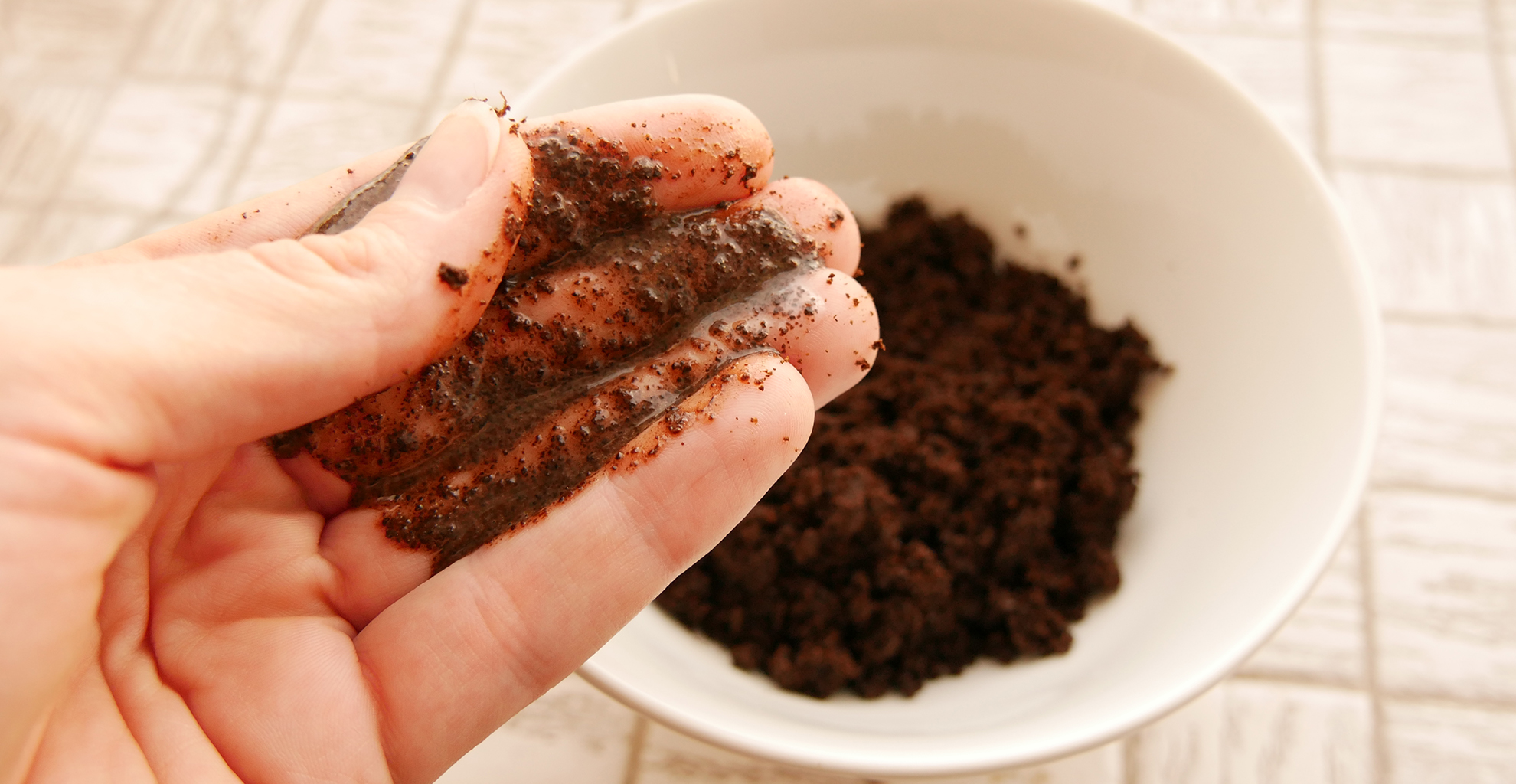 Surely, there are already companies which are selling coffee ground products for much money. But it won't cost you anything if you are already a coffee drinker or live with one! After using this very simpel and quick to produce DIY Natural Body Peeling, your skin feels clean and velvety soft. And it couldn't be more natural. Your skin is happy about it and so is our environment!
Attention! If you have a coffee allergy or if you are allergic to the caffeine it contains, you should of course not use coffee grounds. However, such allergies tend to appear when drinking coffee, which rather causes nausea, tremors or sweating.
Also important: Please do not use sand, it would only clog your drainage pipes! Alternatives to coffee grounds are e.g. grated almonds or jojoba wax balls. If you prefer to buy your body peeling, simply make sure that it does not contain any microplastics! Mother Nature will appreciate that!
Do you have any other great beauty tips which everbody can produce by using simple and inexpensive ingredients and which are easy to implement without using any plastics? Have you already tried this Natural Body Peeling with coffee grounds? How does your experiences look like? Please share your DIY Natural Body and Beauty treatment stories with us in the comments below or send me an Email to info@wildsweetwild.com or use the Contact Form.
Have fun and take care, Nature lovers!